The Science Center Plaza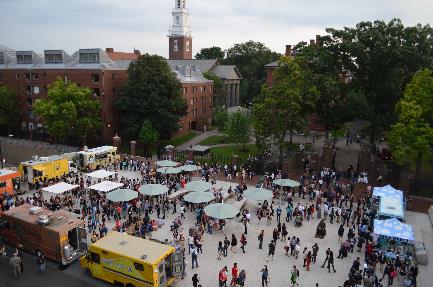 Located at the major campus crossroad between Harvard Yard and the Science Center, the Plaza is home to a myriad of University activities including the Arts First Festival, Farmers' Market, weekly lunch time concerts, and more. The Plaza is a great place to meet up with friends and colleagues throughout the day and into the evening with outdoor seating and great food options from locally-based food trucks.
On nice days ping pong, giant chess, and other games are available in addition to other free community activities including a monthly petting zoo and chair massages. Programs and events on the Plaza take place throughout the year, please visit the calendar to learn more about upcoming activities.
The Plaza Tent is available for University students, schools, and departments to book (fees apply) during the spring and fall months. Learn more about how to request use of the Plaza.